DaVarryl Williamson brings the Sweet Science to Colorado with TOS Boxing Gym in Englewood, Colorado. Power, Speed, Grace, Strength. Born and raised in Washington, D.C., DaVarryl was given the ring nickname "Touch of Sleep" due to his ability to grace his opponents with a "lights out" punch that sent them to sleepytime.
DaVarryl opened the TOS Boxing Gym to inspire others to achieve their fitness and life goals through hard work, faith, and belief in their own power. Fitness of mind, body, and spirit is the guiding philosophy that DaVarryl wants share with his gym family and beyond.
DaVarryl is a proud father of his two children Dantel and Alayana
He has a current professional record of 26-6 of his wins are by knock-out (KO). Learn more about DaVarryl by visiting his Wikipedia page.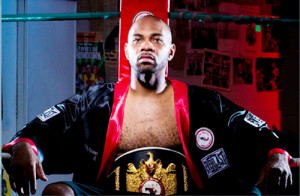 DaVarryl "Touch of Sleep" Williamson